King King
King King Biography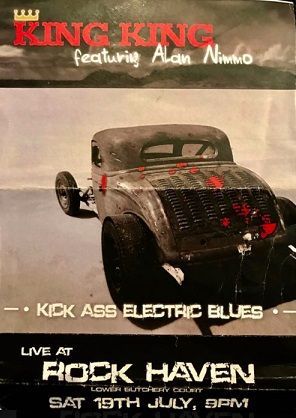 King King, Britain's premier blues rock band only came onto my musical radar in 2017, yet they have been going since 2008. I am reliably informed by band member, Lindsay Coulson that their first ever gig was in Lincoln on 19th July 2008 at Rock Haven, a local music venue. (see poster right). The line-up that night was Alan Nimmo (guitar/lead vocals), Lindsay Coulson (bass), Dale Storr (keboards) and Dave Raeburn (drums) where they played to a small, but receptive audience. Since then they have gained a large fan base, after touring all over the UK and Europe, as well as playing festivals in India and Canada. They have have released four studio albums -
Take My Hand
(2011),
Standing In The Shadows
(2013),
Reaching For The Light
(2015) and
Exile & Grace
(2017). The latter reached number 31 in the official Uk album charts. They have also released a double live CD and DVD album,
King King Live
in 2016 which reached number 86 in the album charts. They have also won buc ket laods of awards such as best Band, Best Album and Best songwriters in several Blues based awards. Their music is what I would call, "Classic Rock for the 21st century" with influences ranging from Free through Thin Lizzy to Whitesnake, all with their own unique mark on it. I saw them live for the first time in January 2018 at the Forum Bath where they played a well received set. (for review
press here
) Their present line up is:- Alan Nimmo (guitar/lead vocals), Lindsay Coulson (bass), Wayne Proctor (drums), Jonny Dyke (keyboards). They have a bright future and should make it into the big time very soon.
---